Posts tagged '"Fruit"'
Fake food and drink spills from Just Dough It. Not so delicious, but still fake. Okay, okay, not that thrilling either.
It's a bit like the opposite for fruit salad. Mix up different bits to make just 1 piece of fruit.
Fruit designs from Steve Haskamp.
Runners and Table mats by Pieced Tree at Create for less.
Pin cushions at Miss Rosie's Quilt Co. from Fat Quarter Shop.
Ok, over the top nail art kind of grosses me out. But, I have to tip my hat to these promoters of the fake delicious.
Watermelons featured at Cakehead – where they talk about nail art vending machines!
1UPcoolpics or Y*U*M*M*Y ( I can't figure out what they are actually called) features some amazing pics of nail art, including these fast food and candy ones:
A 3D ice cream set from ioffer.
Sushi set featured at Fashion Freak and the Friction.
I also found out you can buy these polymer clay tubes which you slice to put on your nails.
These are from Ali Express.
And here is an example of how you can use them:
From My Tiny World – and they also have tutorials.
Well sure you can get fairy lights in heart shapes, but here at fake delicious we like to spice it up a litte.
Chilli lights from Kitsch Shop.
And sometimes we get a little fruity!
Fruit fairy lights from Radiance Lighting.
I love the look of ceramic food platters. I guess it's the serving food on food thing.
Here are some cool ones from Pugsly's Trading Post.
If you feel like looking flavourlicious check out this fruit dress by
Clairebearpear
at DeviantART.
Why have I not looked this up sooner?!
Lego Eggo by Jonathan Eric Hunter.
Lego Sushi found at "Big Daddy" Nelson's flickr stream.
Then, via this awesome Soothbrush post about burger shaped things (totally awesome – includes a motor bike, bed, dress, fabric burger etc) I found this: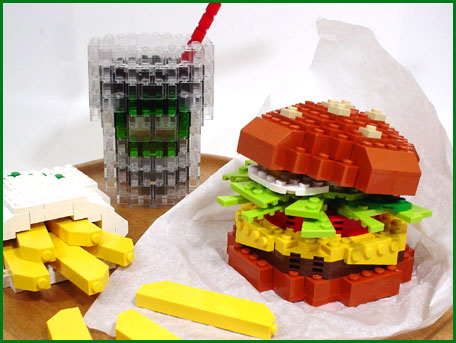 A lego burger meal by Sachiko. Click link for more pics which show a faces in the burger and one of the fries. Cutes!
Sachiko also made these: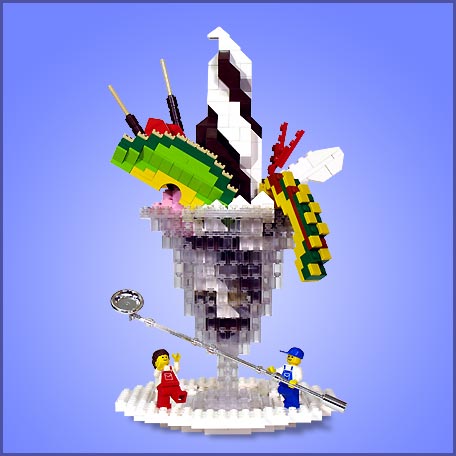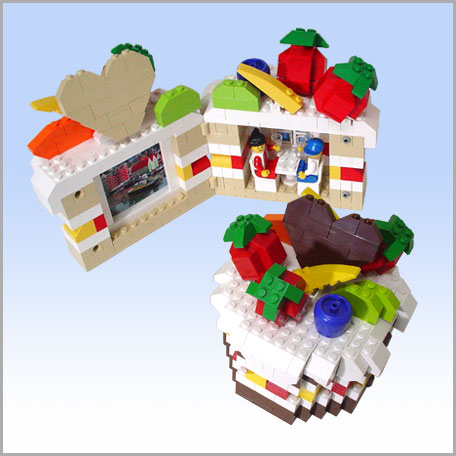 Sweets memory – cake with photo frame inner.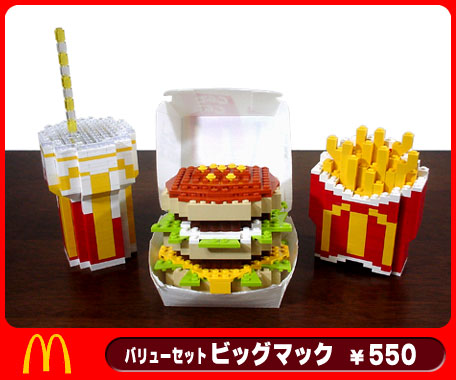 McDonald's Big Mac set!
Also check out the backpack lunchbox (with lego food).
When I was last in Thailand I saw this awesome fruit soap making kit.
So cutes! I can't read the site where it came from, but it's over at Girls Channel. I almost bought myself a kit, but it would have been too heavy with the amount of shopping I had already done!
Although I notice the continued trend of the yellow strawberry. Where can I find those?
If you had erasers like these, you would either make mistakes on purpose so you could use them, or try hard never to make mistakes so you could keep them forever.
Found these cute Gummi Bear erasers from See Jane Work via a distinctly awesome Gummi Bear related post by Jessie at The Hungry Mouse.
Sundae and chocolate biscuit from itasho mini eraser collection. They have some adorelicious erasers over there.
I'm sure I used to have a set of these when I was little. Either that or I was envious of another girl in my class who must have had them. They are fruit slices but they look like candies too. Found at
Daytona Vending
.