A few days ago I was in a local asian supermarket and saw a cute candy container that was shaped like a giant golden apple. I kinda assumed it was some kinda new years treat thing, since they don't usually have them. It was very cool, but since I didn't really neeeeeeed it, I didn't buy it. However, I am gonna use it as a spin-off point for this post.
So did some searching and Alibaba has these cute candy dishes.


Okay, so maybe a rabbit doesn't count as fake delicious – but that is clearly a carrot on it's back, which does!
The only fake delicious image I could get of a traditional candy box was this one from Cafe World wikia: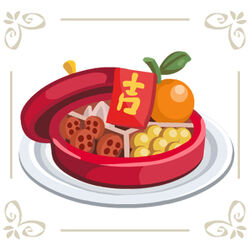 Hmmmm fake delicious video games are pretty awesome, I should really feature them more!